"Yellowstone to Yukon: Lessons for Eastern North America"
Black Rock Forest held their annual benefit luncheon on May 5 at the Metropolitan Club in NYC. Co-chaired by their Board Chair, Mr. Hume Steyer and Board President, Dr. Hilary Callahan the event featured keynote speaker, Dr. Jodi Hilty, President and Chief Scientist from the Yellowstone to Yukon Initiative.
Mr. Christopher Elliman, President and CEO of the Open Space Institute, on behalf of the BRF Board, presented Dr. William Schuster with the Dr. Ernest G. Stillman Award for outstanding leadership in research, education and conservation after 30 years of dedicated service to Black Rock Forest.
The Black Rock Forest Board also announced the creation of the William S.F. Schuster, PhD, Fund for Research. Founded by generous benefactors to honor the three decades of Bill Schuster's consequential leadership of Black Rock Forest, the Board hopes to grow an endowed fund to support future science research and provide a legacy of Dr. Schuster's work at the Forest.
For more information about the William S.F. Schuster Fund for Research please visit our donate page.
Click here for a recording of Dr. Jodi Hilty's presentation "Making the Case for Large Landscape: Yellowstone to Yukon".
Here is a recording of the event to listen to all the speakers and presentations:
For a complete list of benefit donors.
---
BLACK ROCK FOREST BENEFIT LUNCHEON GALLERY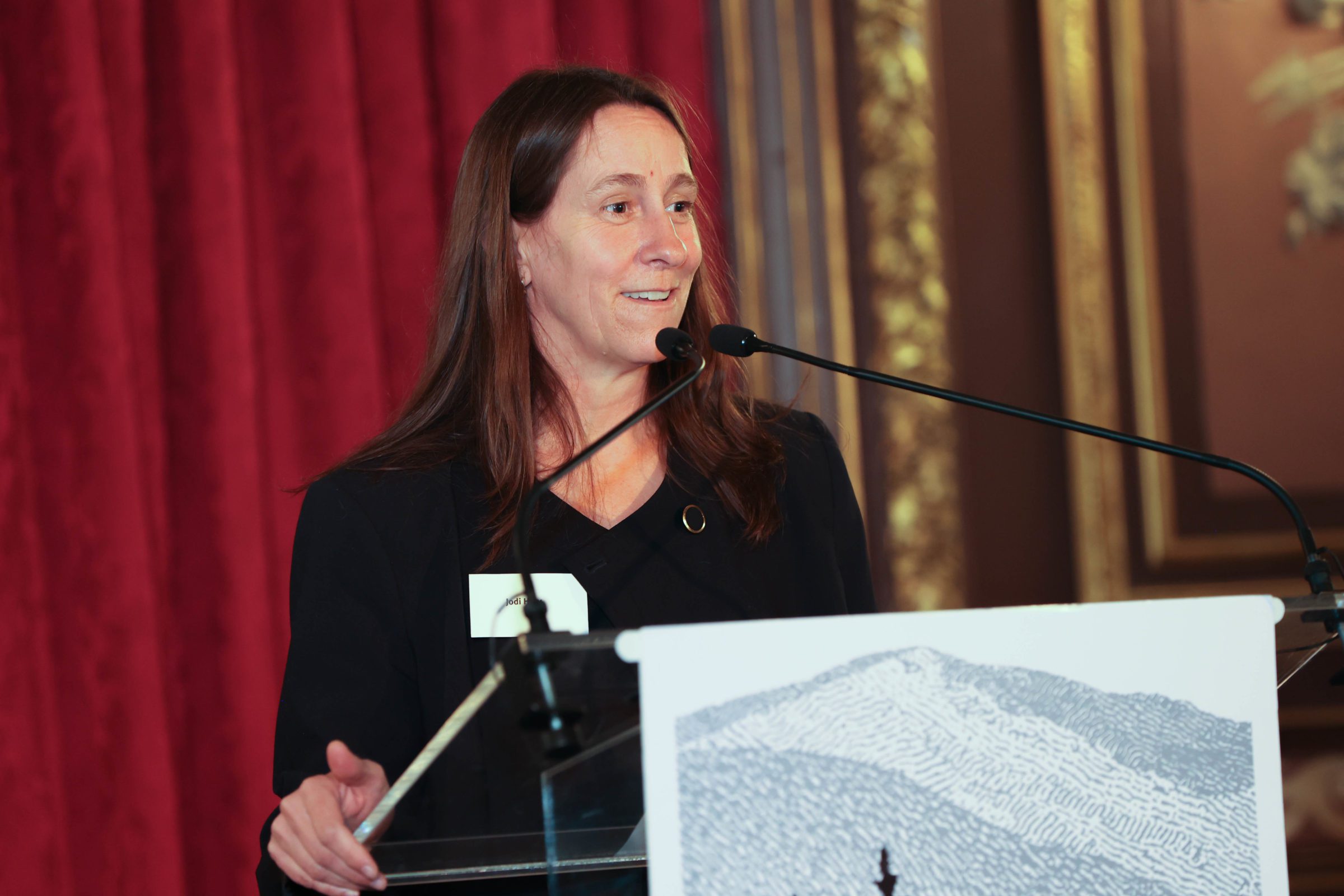 ---
BENEFIT DONORS
ECO-CORRIDOR
Richard & Kerri Bartlett
Valerie Colas-Ohrstrom
BLACK BEAR PAWS
William & Eileen Glaser
David & Beth Shaw
BOBCAT TRACKS
Barnard College
The Browning School
The Columbia Climate
School
The Dalton School
Noah & Maria Gottdiener*
Marjorie & Gurnee F. Hart
Ralph E. Ogden
Foundation, Inc.
Gerry F. Ohrstrom
Open Space Institute &
Christopher J. Elliman
Amelia Prounis &
Harry Raftopoulos, MD
David & Jeannette Redden
Michelle D. Smith
Hume R. Steyer
OTTER SLIDES
Philip V. Ammirato, PhD
Pam & Barry Breeman
Hilary S. Callahan, PhD
James & Kara Cross
Laurie & Scott Dubchansky
Robert & Mary Grace Heine
Andrew Jacobs & Lotus Do
Jonathan W.R. Lamb
Deborah & Rocco
Landesman
Jim Ottaway, Jr., Trustee,
Storm King Art Center
Ru & Sheila Rauch
Andrew & Catherine
Sidamon-Eristoff
Constantine Prince
Sidamon-Eristoff
Christie Van Kehrberg
BOX TURTLE TREKS
Tom & Nancy Berner
Charles Canham,
Cary Institute
Howard P. Davis
Kristin Gamble
Paul & JoAnn Dolan
Margaret & Jim Harbison
Fenella & Morrie Heckscher
Sam Keany
Bill & Tina Kelly
James B. Kobak, Jr.
Carolyn Lamphier
Melissa Mannis
Scott Mannis
George & Judy Muser
Sara Lee Schupf
Sylvia Smith
Anonymous(3)
SALAMANDER MIGRATIONS
American Museum of
Natural History
Peter & Helena Bienstock
Thomas Bregman,
Hudson Highlands
Nature Museum
Anne M. Cliadakis *
Dagher Engineering, PLLC
Sally Faith Dorfman-Sirota
Veronique Firkusny-
Callegari
Deborah S. Gardner
Paul R. Gottsegen
Jonah Alexander
Greenberg
Richard Greenblatt &
Louise Ballinger
Liam Kavanagh
Mary J. Leou
E. Curtis & Janet
Moulton, III
Tom & Joann O'Donnell
Hannah Roth
Riverdale Country School
The School at Columbia
University
David Sgorbati
Deborah Sussman
Trevor Day School
Anonymous
UNDERWRITERS
Stephen M. Clement, III
Joshua R. Ginsberg Fund
Catherine Morrison Golden
An-Ping & Sarah Hsieh
Samuel G. Huber,
Notaboat Fund
National Philanthropic Trust
Douglas Land &
Lynn Peebles
Christine Ruppert
Lucy R. Waletzky, MD
CONTRIBUTORS
Marianne Duggan Bell
Emily & Jo Cunningham
Catherine R. Curley Lee
Stephen Ives &
Anne Symmes
Oliver, Barbara L.
Anne & Frederick
Osborn, III
William Plotch
Plum Point Dental
Andrew Reinmann
Stephen & Elizabeth Shafer
E. Ward & Carolyn Smith
Amy Stillman
Mark Stillman
Anonymous (4)
*Donated ticket(s)to
educators or research
students.