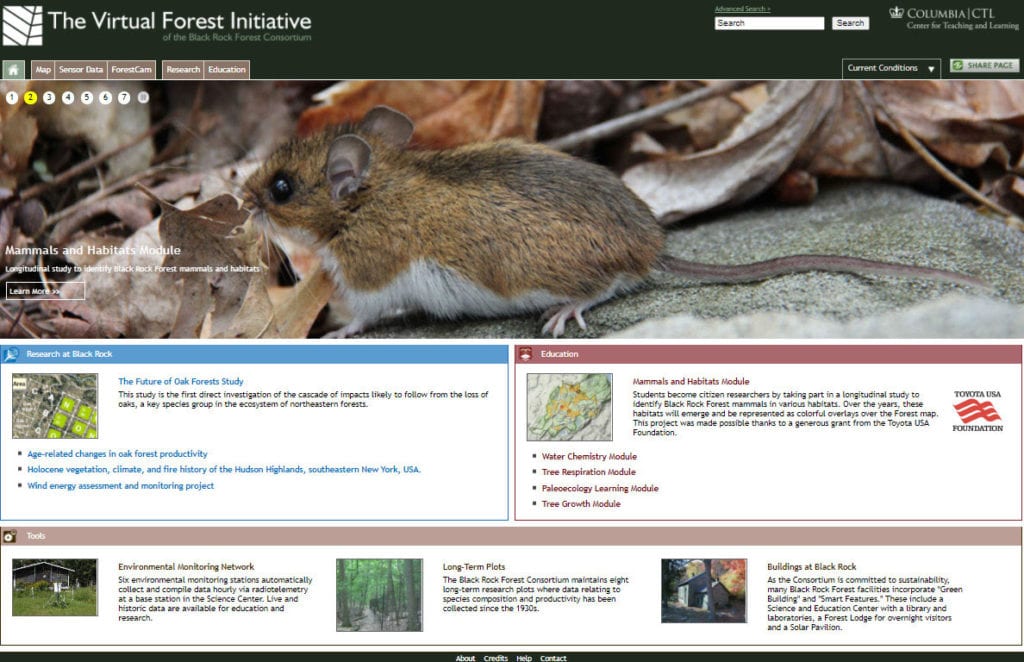 The Virtual Forest Initiative hosts a suite of web-based learning tools for undergraduates and for grades 8-12. Online modules explores concepts in paleoecology, plant physiological ecology, forest sampling methods, water chemistry, and mammals and habitats
About the VFI
The Virtual Forest Initiative provides a technological framework to support and enhance research, education, and community activities at Black Rock Forest. The framework provides searchable, downloadable forest assets and resources for access, presentation, and use by scientists, educators, and community members.
As part of the larger Virtual Forest Initiative, Columbia Center for New Media Teaching and Learning (CCNMTL) developed a suite of web-based learning tools that utilized Black Rock Forest's rich archive of scientific records such as climate field station and tree data. Used in the Earth and Environmental Sciences courses at Columbia University and Barnard College, the project gives students an unprecedented opportunity to utilize real data for comparative analysis.
In 2011, Black Rock Forest and CCNMTL were awarded a $500,000 grant from the Toyota USA Foundation to develop two educational modules for the Virtual Forest Initiative – on water chemistry and the Hudson River water quality, as well as Mammals and Habitats – to teach environmental science in New York City middle and high schools. The grant also supported class field trips to the Forest, where students experienced the forest first-hand and applied what they have learned from the online modules.