The Black Rock Forest Lodge has 10 rooms that can sleep up to 60 people in bunk beds. Cots and floor mats are available for groups larger than 60. Due to our active membership of 20 schools, universities, and cultural and research institutions, it is a good idea to plan your research visits well in advance, and reserve a room at the Lodge as early as possible in your planning.
Lodge room occupancy ranges from four to eight people, and we do occasionally ask that visitors from different member institutions share rooms (single sex) if the Lodge is exceptionally busy. Facilities include wireless internet service and a well-equipped catering kitchen. A large central room, The Commons, accommodates up to 140 people for meetings or conferences and up to 65 for dining. The first floor also features a west-facing deck with wonderful views of the Forest and surrounding mountains. On its lower level, the Lodge houses the Moretti Center – a new, state of the art classroom and education center.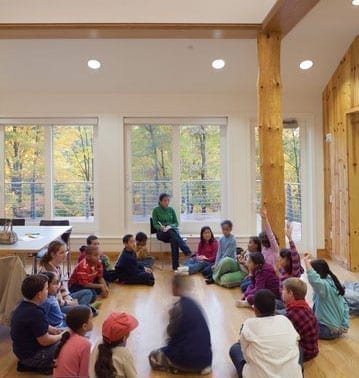 The Lodge opened in 2004 and currently helps Black Rock Forest to host more than 13,000 visitor days annually. Designed by Fox and Fowle, a premier green architecture firm now known as FXFOWLE, the Lodge has received several awards for its green building features, including geothermal heating and cooling, composting toilets and energy efficient design. See our Sustainable Technologies page to learn more about the Forest's green buildings and campus.
Please see Plan Your Visit to make reservations at the Lodge.